IWD: How Our Emmeline continues to inspire our city
In December 2018, Manchester unveiled a statue of Emmeline Pankhurst standing proudly in St Peter's Square as a symbol of the suffragette movement. It was the first statue of a woman to be unveiled in the city since one of Queen Victoria was revealed in Piccadilly Gardens in 1901.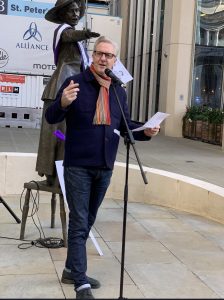 Our Emmeline was selected as the public's chosen icon to be immortalised as a statue from a long list of 20 inspiring Mancunian women. Helen Pankhurst, Emmeline's great granddaughter, gathered people from across Greater Manchester at two special meeting points to march towards St Peter's Square.
It was a special occasion that has triggered further inspirational events. As the main funder of the Emmeline Pankhurst statue, we have watched these unfold with pride.
A campaign organised by Manchester Women's Aid showed just how powerful Our Emmeline can be. To support '16 Days of Action Against Domestic Violence', each day a different Manchester charity or organisation dressed Our Emmeline in clothing representing a different job role.
For example, on the first day Our Emmeline was dressed as a GP by the Pankhurst Trust and Manchester Women's Aid in recognition of the physical and mental harm caused by violence against women and to raise the profile of the IRIS GP referral system.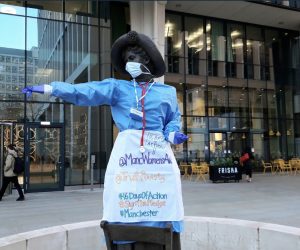 The overall aim of the creative campaign was to call for businesses to support an end to violence against women and girls, and to invest in workplace resources that support those suffering from domestic abuse.
Three months later and people from across the Manchester region came together to celebrate International Women's Day.
Numerous events have taken place this month, including the city's annual Walk for Women on 7th March where participants were encouraged to bring noisy instruments and their loudest chanting voices to keep the walk alive. The route went right through the city centre to where Our Emmeline stands proudly in St Peter's Square.
Beginning at the Emmeline Pankhurst statue, The Pankhursts of Manchester Tour also took place this month. This offered the chance to discover the feminist history of Manchester, the politically revolutionary family that included Emmeline and her daughters and the vital parts they played in the Suffragette movement.
The photos from these events provide a powerful snapshot of the huge impact Our Emmeline has on Manchester. Surrounded by a meeting circle, the statue not only celebrates Emmeline and her legacy, but the spirit of Manchester, providing an inspirational place for people to gather and even a force for change.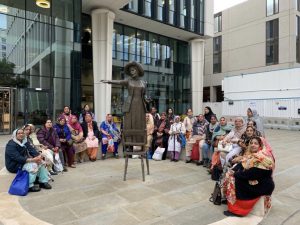 We are incredibly proud to have played a part in bringing Our Emmeline home to Manchester and look forward to watching, and taking part in, a whole host of further events and campaigns that celebrate the region's strong women and continue to inspire all those that live here.