AXIS shortlisted for 2020 RESI award
Axis is in the running to be named 'Development of the Year' at the 2020 RESI Awards.
Organised by Property Week, the awards celebrate the UK's residential property sector and its successes over the last year.
Comprising 170 luxury apartments, Axis is a 28-storey residential scheme by Property Alliance Group and one of Manchester's most complex builds. Located at the eastern end of Deansgate Locks, the development springs from a tiny triangular site on the bank of the Rochdale Canal.
Alex Russell, managing director of Property Alliance Group, said: "Making the final of the RESI Awards in such a competitive, national category is another great achievement for all those involved in Axis.
"This is a development that has taken many years of planning and preparation. Constructed on a site totalling just 761 sq m, it's a complex feat of engineering that has defied those who said it could not be built."
Axis has been designed by Jon Matthews Architects and built by Russells Construction. Thanks to a series of raking concrete columns, the building cantilevers over the canal enabling it to increase its footprint from 300 sqm on the bank to 500 sqm on the upper floors by transferring the load down to the foundations. Designed to appear as if they 'clasp' the building above, the columns provide an impressive reception entrance as well as structurally supporting the building from the second floor right up to the roof.
Externally, the tower is clad with 2,200 angular glazed panels. The metallic black, silver and bronze sections of these dichromatic panels shimmer in the sunlight and appear to subtly change the colour of the building's façade, which also holds the city centre's largest billboard.
Access to the building is via a new bridge over the canal, leading to a double height reception space, defined by a single cruciform concrete column.
Internally, apartments offer one, two or three bedrooms with a variety of en-suite and family bathroom configurations as well as an open-plan galley kitchen/living room. At the top of the building is Manchester's largest lateral penthouse.
Resident comfort is a priority, and that's reflected in the scheme's clever design which maximises the use of space in each apartment. This is complemented by extensive, large-format glazing providing uninterrupted 360 ° views across the city, out to the peaks, the quays and beyond.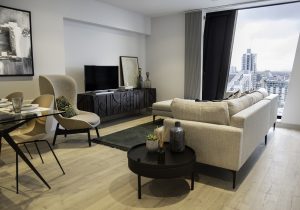 The 24-hour concierge reception area features polished concrete with embedded artworks. Residents also benefit from high-quality support services such as refuse management, housekeeping, maintenance, car parking and site security all delivered by Alliance City Living.
Practical completion was achieved in December 2019 by which point sales had exceeded expectations with 94 per cent of the apartments sold.
The winners of the RESI Awards 2020 will be revealed in London on 13 May 2020.